Welcome to the website for THE definitive book on being a churchwarden.
Now available – Just published!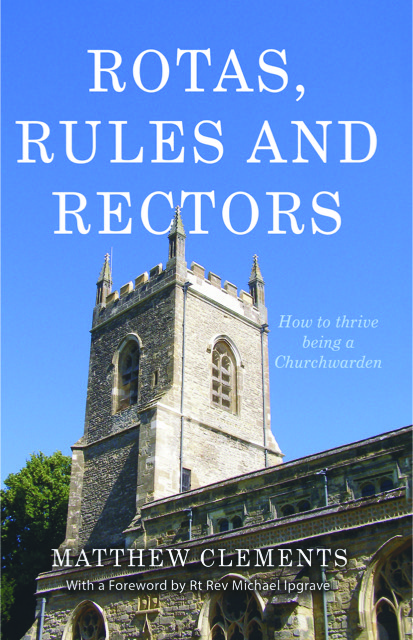 "ROTAS, RULES AND RECTORS – How to thrive being a Churchwarden" is aimed at illustrating the scope of the churchwardens' job with a variety of examples from my own experience of being both churchwarden and treasurer in different Anglican churches. In my view there is a distinct lack of practical advice about what the job actually entails, and I suspect that this deters many people from doing the job at all. There are other books available but these tend to concentrate on the legalities such as elections and how to run meetings, or how to re-order your church.
The focus of the book is on thriving in the job as opposed to merely surviving! The job is not impossible, but with a bit of planning and determination much can be achieved; my hopes are that this book will encourage more people to look at the churchwarden job as something that they could do, and also help elected churchwardens to be more productive in their term of office. This can only be of benefit to the church as a whole, as well as to their own sense of achievement.
This book started when I started to write a short handover piece for my new fellow churchwarden for her education about what she had taken on, and it just grew from there. It is aimed at the 30,000+ elected churchwardens in the UK, of whom several thousand are newly elected each year. It is also appropriate for those who might be considered for nomination – hopefully it will sway them in the right direction – and for the vicars who want to get the best out of their church officers.